Collapsible content
Study Format

Online + Face-To-Face Immersives
Time To Complete

6 months. Fees will apply after this time.
Why Aleenta Barre Instructor Training?
The training incorporates studio classes, online and self-study and assessments. It's intense, challenging and rewarding and will give you the confidence, skills and knowledge to create your own classes in any environment.
Not only will you learn the principles of barre, but also how to improve your own personal strength and technique for brilliant demonstrations and teaching style and delivery. 
During the Course you will master barre exercise fundamentals, correct biomechanics of movement, as well as how to effectively utilise the power of music to create fun and challenging barre classes focusing on increasing strength, flexibility, toning and posture. 
We maximise teaching practice during the Course and provide valuable feedback and assessment with an emphasis on class delivery and design.​
This course is physically and mentally intense, but equips you with everything you need to excel as an Instructor in Barre Fitness.
The class delivery techniques learnt will also apply to class teaching for other fitness genres such as yoga and Pilates. This program is specifically designed to be clear, complete and engaging - it is informative, easy to follow and FUN!
Aleenta Barre Instructor Training is suitable ​for all fitness professionals - Personal Trainers, Pilates Instructors, Yoga Instructors and Physiotherapists wanting to add barre to their repertoire.
Enrol

Choose Your Course & Enrol

Pre-Intensive

Complete online modules & self-study pre-intensive.

Face-To-Face

Attend 3-days face-to-face practical intensive.

Observation

Attend 10 classes for observation & reflection.

Submit

Complete final assessment & submit.

Completion

Successful completion - ready to take on the world!
How It Works
Barre Instructor Training is delivered via online self-study at your own pace, a 3-Day in-person Intensive, observation and class-reflection hours and a final practical assessment.
Highly Engaging Online & Self-Study

Enjoy online learning at your own pace with video, activities, lessons, and quizzes. Each unit includes a detailed visual  instruction manual, instructional video and interactive quiz.

Practical Assessment

The practical assessment tests the application of your knowledge and ability to deliver the class you've designed. This assessment is focussed on you teaching confidently

Face-to-Face Intensive

This is where it all comes together and you apply your online learning to teaching. Over a few days, you'll design effective classes, explore how the exercises feel on your body and practice class delivery.

Observation & Class-Reflection

Class observation, participation and reflection is essential. Here you will learn tips, trick and skills to create your own voice and style as an Instructor. 
Face-To-Face Immersives
Courses can be commenced at anytime. The Course dates below reference the face-to-face intensive dates. When you enrol you'll enrol into chosen immersive dates. When selecting dates ensure you have chosen dates which allow enough time for the pre-work required (approximately 40hrs) per Course.
Example product title
Regular price
Sale price
$19.99 AUD
Unit price
per
SAVE!
Sold out
Instalment Plan: $459 deposit paid today with $65 weekly direct debits over 26 weeks.
Share
View full details
From Our Students
Meli Privopoulos

Physiotherapist, Barre Instructor Training Graduate

I thoroughly enjoyed the course. It was very well planned and organised with a great balance between theory and practical. It was a wonderful that it catered for different levels and backgrounds, with a lovely mix of students in the course. Alicia was very inspiring and knowledgeable! Each exercise was broken down into muscle groups and benefits which was very helpful. It also provided a framework for you to create many classes yourself in the future. You definitely leave the course ready to take barre classes straight away! I would recommend this course to other health professionals and those wanting a career in the fitness industry.

Kara Bailey

PT and Gymnast, Barre Instructor Training Graduate

Signing up to this course, I didn't really have much of an idea about what I would be in for. I was pleasantly surprised when the course curriculum took us back to the basics of ballet and what has now become "barre". Having Alicia as our trainer was a special treat, not only because she was the one who had designed the course and written the course content, but being a barre instructor at Aleenta herself, she had a wealth of knowledge of all aspects of what it means to be a barre instructor. I would recommend this course to anyone with a background in Pilates, ballet or yoga, or even like me, who is a PT and is looking to add a bit of an edge to there training and skills.

Clara

Yoga Instructor,  Barre Instructor Graduate

As a fitness enthusiast, this course was intense, challenging yet SO REWARDING! Alicia guided us through classic Barre techniques and we had loads of discussion on anatomy, human body mechanisms, ballet & barre history, class design, and non-stop practical sessions to build up barre teaching skills. I met a group of fitness professionals from all walks of life (Pilates teachers, dancers, nurse, yogis, physiotherapist and a beauty therapist!). Everyone was so encouraging, we all shared and learnt from one another, the ambience was awesome and the whole learning experience was just fun. Try it for yourself, and I guarantee you will not be disappointed.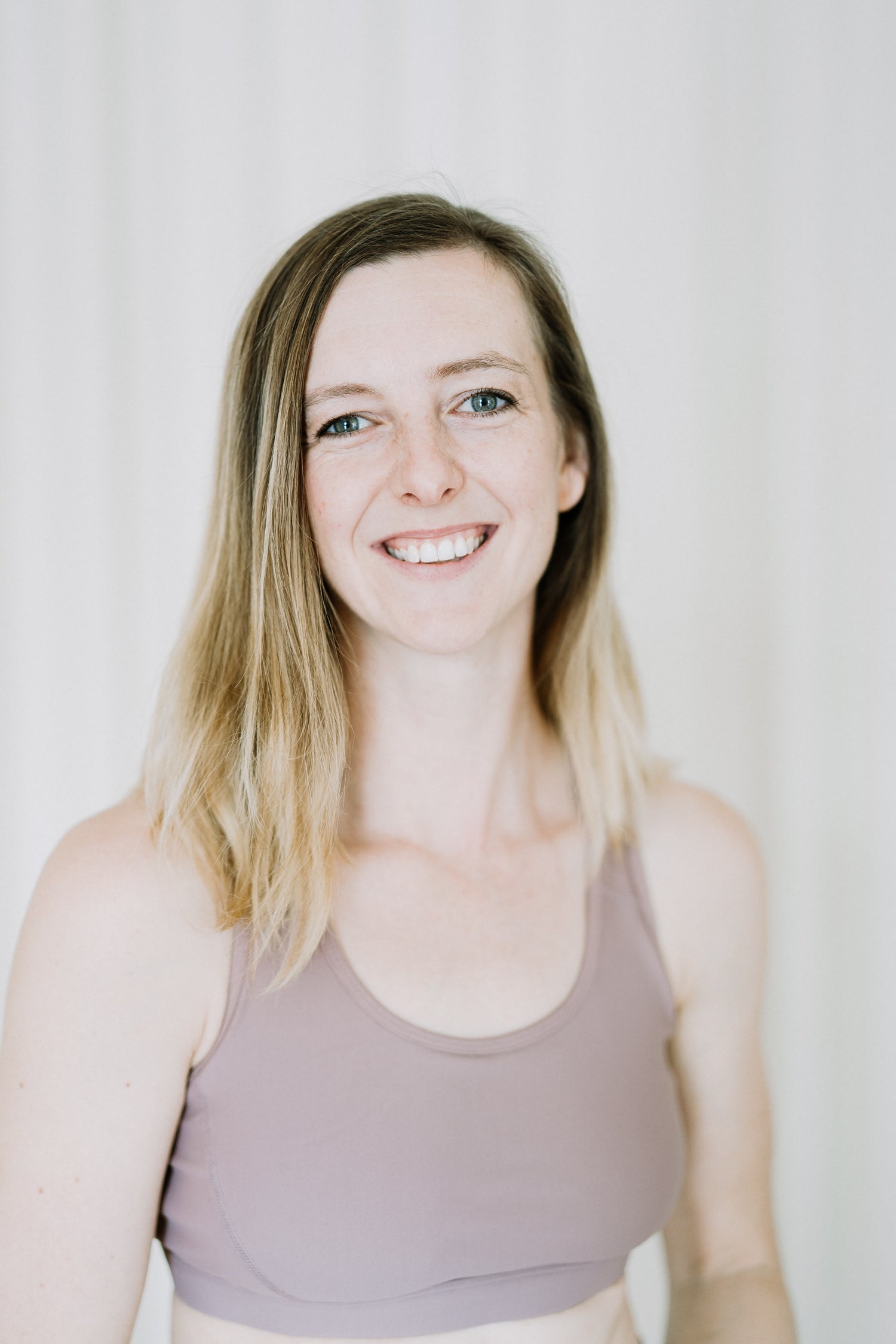 Alicia Harvie
Alicia Min Harvie is a contemporary dancer and performance maker, Master Trainer and Head of the Aleenta Instructor Training School. She's dedicated 13-years, two Bachelor Degrees, a Diploma in Pilates therapy, a Cert 4 in Training and Assessment to her love of movement. Having fun exercising with friends, the reward of feeling strong and reaching goals is what drives her to help others do the same. 
Foundations Of Fitness
Anatomy

Detailed anatomy delivered in a fun, informative and easy-to-understand module. 
Biomechanics

Essential terminology to understand movement
Exercise Physiology

Applying the principles of exercise physiology to understand how exercise effects the body's systems. 
Postural Assessment

Learn how to observe, analyse and assess posture to provide alignment cue
Exercise Pre-Screening

Learn how to perform an exercise pre-screen and modify for injury, pain and limitation.
Pre & Post-natal Exercise

Understand how the body changes through pregnancy and how to modify exercises for pre and post-natal.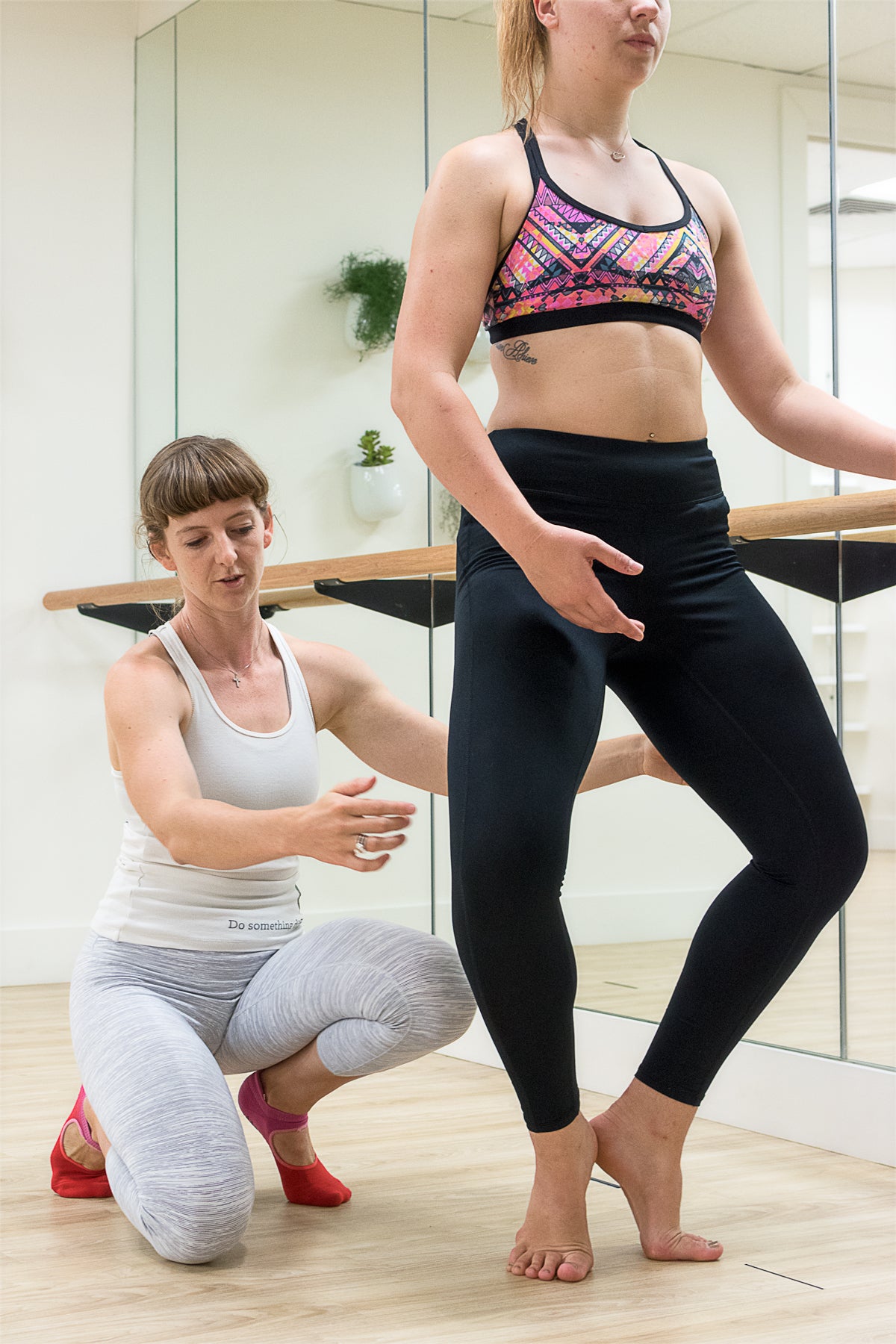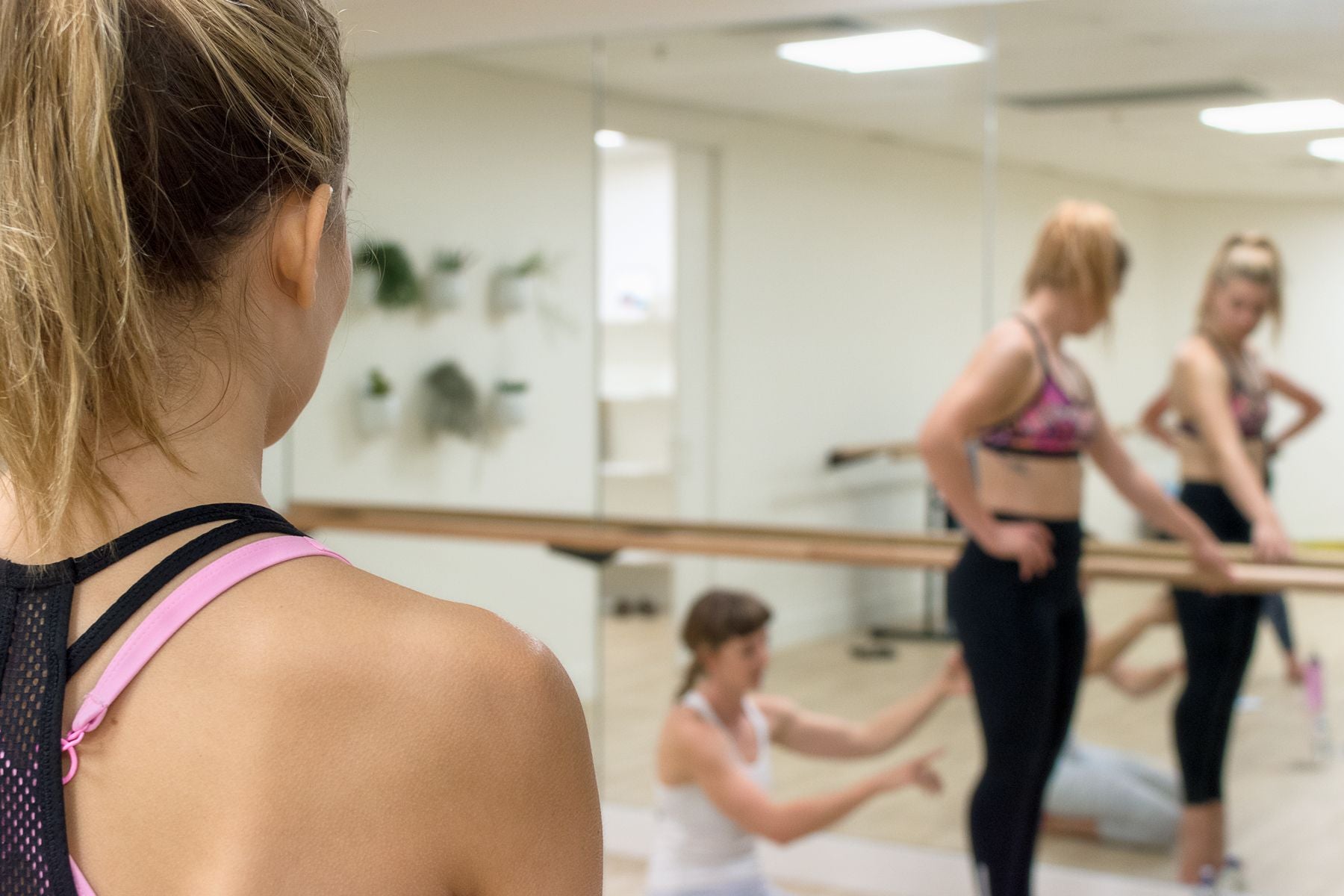 Barre Training Modules
History & Evolution of Barre

Learn about the creation and evolution of barre and the different styles of barre fitness and how you can create and adapt barre to your Studio or classes.

Ballet Behind Barre Fitness

Unleash your inner ballerina learning ballet terminology, positions and alignment. Experience a ballet class and understand the difference between ballet and barre.

Foundational Barre Exercises

Master foundational exercises of barre which combined create barre class sequences and design.

Class Creation & Design

Learn everything related to class design - choreography, sequencing and flow, musicality, creativity and equipment props. Create a class and submit for assessment.

What makes a Great Instructor

We teach not only the fundamentals of barre, but also how to teach it. The art of cueing, adjustments, modifications and progressions.

Class Reflections

To become a world-class Barre Instructor, you need to understand class design, delivery and style. The best way to obtain this knowledge is experiencing it for yourself and reflecting on what works. 
FAQ's
What are the course requirements?

You can be a complete novice Instructor to do our Course. Our only requirement is you have a passion for barre plus some level of familiarity.  This is why we require you to complete at least 10 barre classes prior to commencing the course. The more the better and attending a range of studios (if possible) is even better. ​We encourage all our Barre Instructors to undertake a Certificate 3 in Fitness to provide additional fitness knowledge and Certification. However, it's not essential to complete prior to undertaking this training. 
What on-going support do I receive?

For 2 weeks prior and 2 weeks post the face-to-face intensive you will have online access to our Master Trainer and support team to complete the pre and post work requirements.There is a community tool set up so that you can communicate with your class peers and Master Trainer over this 4 week period.
How long does the course take?

The Course is a total of 150 hours. This includes approx. 40 hours of pre-course online study, 3-days face-to-face Intensive and furhter online and self-reflection/observation hours.  We recommend allowing 6 months to complete the Course.
Is the Barre Instructor Training Course Certified?

The Aleenta Barre Instructor Training Course is a Fitness Australia Approved CEC Program. Participants who successfully complete the program will be eligible to attain a total of 15 CECs from this Barre Training Course.
What if I cannot complete the course material in 6 months or if I do not pass my assessment?

If you need to re-sit the assessment the cost is $150. We will re-schedule a formal examination at a time mutually convenient if you fail to achieve 80% pass on the examination.If you are unable to submit all your course requirements within 2 weeks of finishing the course then a fee of $150 is charged to extend the deadline per week required.You will not receive your Aleenta Instructor Accreditation until the formal assessment and all course work has been passed.
Are there any Course Requirements

> Barre Instructor Training is open to anyone who has a love of barre. 

> A minimum of 10 barre classes must be undertaken before commencing the face-to-face Intensive component of the Course.

> A Certificate III Qualification in an area such as Group Fitness, Pilates, Dance or Level 1 in Yoga is the minimum qualification in Australia allowing you to obtain insurance for group exercise purposes. We highly recommend completing a Certificate 3 pre or post your Barre Instructor Training Course.
When is the latest I can enrol?

Given the pre-course assessments are required before the Intensive begins, we close enrolments 2 weeks prior to the face-to-face course commencement date. If you are a regular barre attendee and your barre strength and understanding is high, we may allow registrations closer to the course start date - please email hello@aleentabarre.com if this applies to your circumstances.
Can I pay in instalments?

YES! We have a Payment Instalment plan available. All you need to do is pay via the deposit option (this covers your face-to-face costs) and we will be in contact to set up a weekly direct debit.

For a single course the plan has a $459 deposit paid upfront with $65 weekly direct debits over 26 weeks.

Please be aware that you will not officially graduate your course until all instalments have been paid.

If you complete early and still have remaining payments you have the option to completely pay off your course early and receive your course completion certificate.
Example product title
Regular price
Sale price
$19.99 AUD
Unit price
per
SAVE!
Sold out
Instalment Plan: $459 deposit paid today with $65 weekly direct debits over 26 weeks.
Share
View full details